Tom Harvey Award Winner 2020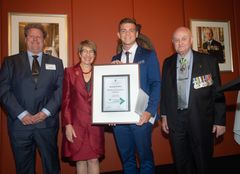 From left to right:
David Harvey, Vice President of Australia Youth Trust and Commonwealth Day Council; Her Excellency the Honourable Margaret Beazley AC KC; Michael Bonnici, recipient of the 2020 Tom Harvey Award and the late Honourable Max Willis RFD ED CSI, President of the Australia Youth Trust.
Tom Harvey award recipient 2020
A brief overview of the achievements of Michael Bonnici. Well deserved recipient.
Michael Bonnici.pdf
Adobe Acrobat Document
544.7 KB