Tom Harvey Award for Citizenship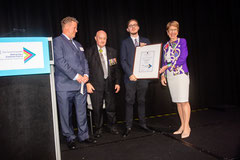 Margaret Cunneen SC (left) with the winner of the Tom Harvey Award 2016 - Dr Kate Murton (centre) and David Harvey, Vice President of the Australia Youth Trust and Commonwealth Day Council at the Commonwealth Day celebration lunch at NSW Parliament House.
The Tom Harvey Award is named after the late inaugural Chairman of the Australia Youth Trust and recognises the outstanding contribution of a young Australian citizen between the age of 15 and 30 years. It comprises a cash prize of $2,000, and is presented at the annual Commonwealth Day Luncheon held at Parliament House, Sydney, which will be held on Wednesday 15 March 2017.
Commonwealth Day is celebrated across the Commonwealth of Nations – a voluntary association of 54 member nations, including 1.8 billion people or 30% of the world's population.
The award is made as part of a wider programme of grants made by the Trust to assist young people working together within Australia and developing Commonwealth nations within our region, supporting projects such as:
 

t

he relief of poverty and suffering

literacy, education, training and employment opportunities and

the promotion of youth leadership exchange.
Past recipients of the Tom Harvey Award for Citizenship:
Kate Murton (2016) for her work in fundraising to build an operating theatre in Bahati, Kenya
Sophie Roden (2015) for her work in Zambia teaching AIDS awareness and reproductive health
Julian O'Shea (2014) for his work as a humanitarian engineer in underdeveloped countries
Jess Jacobson (2013) for her work in developing communities to enable young people to break the poverty cycle through education and vocational skills training
Brittany Joyce (2012) as a volunteer worker working with HIV infected children in Kenya
Robert Ma (2011) for establishing a special mentoring program for indigenous high schools to support their studies and aspirations for entry to university
Nicole Kuepper (2010) for her development of a revolutionary solar cell that can be manufactured at low temperatures using everyday items
Clary Castrission (2009) for his contribution in the construction of a Learning Centre in Bangalore for severely underprivileged children
Karangi Public School NSW (2008) for the school community's efforts in undertaking environmental rehabilitation and sustainability projects
Angela Bailey (2007) for helping to establish a school for under privileged children in Tanzania
Melissa Hurd (2006) for working with homeless children in Dhaka, Bangladesh
James Strong (2005) to undertake vocational education training in the Cook Islands
Christina Parasyn (2004) for her work with disability programmes in the Maldives
James Moody (2003) for his work with the UN on sustainable development
Veronica Anderson (2002) for her rehabilitation and care of youth people through the Youth Off the Streets programme and
Tammy Van Wysse (2001) for her marathon swim in support of the Murray-Darling system.