Special Grants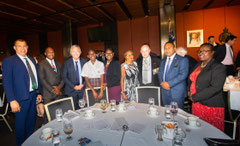 Guests and students from Solomon Islands at the lunch.
The Australia Youth Trust provided a grant for 25 water tanks to be installed in the Aisalinga Village in the Solomon Islands.
During the lunch the offer was opened to guests to donate for more water tanks resulting in at least another 20 tanks for the village.
Any further inquiries or donations can be made by contacting us at commonwealthday@gmail.com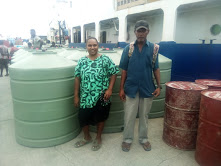 Water tanks change life for the people of the Aisalinga Village, Central Malaita
The Australia Youth Trust has been working hard over the past 12 months to support the development and delivery of twenty-five, 1,000 lit water tanks in Central Malaita, an island in the Solomon Islands.
As the tanks arrived, there was a joyous celebration party in the Aisalinga Village to celebrate the arrival of the tanks at the Village. Aisalinga is located in the mountains of Central Malaita about 20 km from the port/Provincial capital of AUKI.
The tanks were shipped from Honiara to Auki (approx 90 nautical miles) across the Coral Sea as deck cargo. It took all day for one truck to take the tanks up the mountain to the village (4 runs).
The shipping and trucking arrangements were made by Dorcas Kirimaoma (pictured above in the green pattern shirt), a senior Education Department position in Auki. Previously she was the Principal of the Central School in Auki and she was instrumental in bringing the plight of the village to the attention of the Australia Youth Trust.
Also pictured above on the right hand side is the current Principal of the school, Barnabas Bosokuru who will play a major role in the allocation and installation of the tanks.
Through the great work of the Australia Youth Trust and the generous spirit and donations from guests at the Commonwealth Day lunch in 2020, this project has been life changing for the people of the Aisalinga Village.
Read more information on the event:
https://sbm.sb/amp/2020/09/11/aisalinga-gets-25-water-tanks-from-australia/
Special Grants
The Australia Youth Trust awards special grants to organisations that meet the aims of the Trust and are deemed acceptable by the Australia Youth Trust Board.
Recognition of notable projects awarded by the Trust have included:
Water tanks in the Solomon Islands (story above)
Vanuatu Paralymic Committee providing the opportunity for young athletes with a disability to participate in the commonwealth Games in Queensland, Australia
Tuvalu Education Department
Rotary Pacific Water for Life Foundation, Fiji
'Club Foot Project', Melanesia and Polynesia
'Operation Bahati', Kenya
Oro Community Development Project Inc, Papua New Guinea
Rainwater Tank project for North Vella, Solomon Islands
'Shine for Kids' mentoring program, Australia
Commonwealth Countries league Education Fund (CCLEF) for the education of girls, Papua New Guinea
'One Laptop per Child', Samoa
Meditech Outreach, medical training/mentoring program, Solomon Islands
Commonwealth Youth Program South Pacific Centre
Solomon Islands Australia Foundation
Sir David Martin Foundation, Australia
If you consider your organisation meets the objectives of the Trust and would be interested in applying for a special grant then contact us at commonwealthday@gmail.com