Special Grants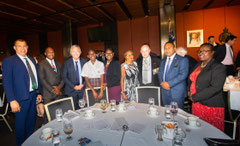 Guests and students from Solomon Islands at the lunch.
The Australia Youth Trust provided a grant for 25 water tanks to be installed in the Aisalinga Village in the Solomon Islands.
During the lunch the offer was opened to guests to donate for more water tanks resulting in at least another 20 tanks for the village.
Any further inquiries or donations can be made by contacting us at commonwealthday@gmail.com
The Australia Youth Trust awards special grants to organisations that meet the aims of the Trust and are deemed acceptable by the Australia Youth Trust Board.
Recognition of notable projects awarded by the Trust have included:
Vanuatu Paralymic Committee providing the opportunity for young athletes with a disability to participate in the commonwealth Games in Queensland, Australia
Tuvalu Education Department
Rotary Pacific Water for Life Foundation, Fiji
'Club Foot Project', Melanesia and Polynesia
'Operation Bahati', Kenya
Oro Community Development Project Inc, Papua New Guinea
Rainwater Tank project for North Vella, Solomon Islands
'Shine for Kids' mentoring program, Australia
Commonwealth Countries league Education Fund (CCLEF) for the education of girls, Papua New Guinea
'One Laptop per Child', Samoa
Meditech Outreach, medical training/mentoring program, Solomon Islands
Commonwealth Youth Program South Pacific Centre
Solomon Islands Australia Foundation
Sir David Martin Foundation, Australia
If you consider your organisation meets the objectives of the Trust and would be interested in applying for a special grant then contact us at commonwealthday@gmail.com