Tom Harvey Award Winner - 2014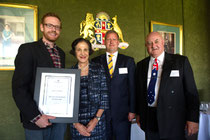 Julian O'Shea (left) receives the Tom Harvey Award for Citizenship from Her Excellency, David Harvey, Vice President, Australia Youth Trust and Hon Max Willis RFD ED CSI President, Australia Youth Trust
Julian O'Shea
Julian O'Shea is an award winning humanitarian enginner who is passionate about applying his technical expertise to tackle one of the world's most important social justice issues: alleviating poverty and empowering disadvantaged communities. His novel approaches and commitment to improving the lives of disadvantaged communities has won him many awards as well as the Tom Harvey Award for Citizenship.
He has developed, piloted and implemented numerous technology solutions including improving energy efficiency in Aboriginal comunities in Australia and through local partner organisations in Cambodia (rainwater harvesting systems), India, Sri Lanka, Timor Leste, Nepal (designing a cleaner burning stove) and Vietnam.
Julian is the Founding Director of the Engineers Without Borders (EWB) Institute which combines technology, education and sustainable community development. EWB is a not-for-profit organisation applying innovative technology solutions to improve the quality of life in Australia and across Asia.
Julian's achievements in engineering and sustainable community development has seen awarded an Engineering Excellence Award (Education & Training), named Young South Australian of the Year and named one of Australia's 15 Most Inspiring Young Engineers.