President's Message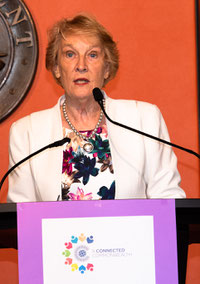 Commonwealth Day 2019
The former Patron of the Commonwealth Day Council of NSW, His Excellency General The Honourable David Hurley AC DSC (Ret'd) and Mrs Linda Hurley enjoy the NSW Public School 54 Commonwealth of Nations flag display at NSW Parliament House.
Further details on the Commonwealth Day lunch for 2020 will be advised later in the year.
The Tom Harvey Award for Citizenship 2020 is now open. We encourage as many entries for this prestigious award to be announced on Commonwealth Day 9 March 2020.
https://www.commday.org.au/the-australia-youth-trust/nomination-form-for-tom-harvey-award-2020/
Don't forget anyone can support the Commonwealth of Nations 'Big Lunch' community spirit event www.commonwealthbiglunches.com
Warm regards
Janet Stewart
President