President's Message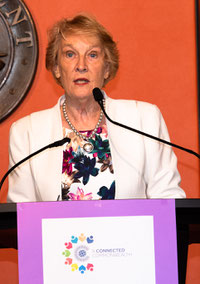 Commonwealth Day 2019
We are pleased to announce that bookings for the forthcoming Commonwealth Day lunch closed on Friday 22 February and we are now fully booked. Thank you for your interest in the lunch.
Our special guest speaker will be Margy Osmond, an Australian businesswoman and current Chief Executive Officer of the Tourism and Transport Forum (TTF).
The winners of the Tom Harvey Award for Citizenship and the Pat Keill OAM Award will be announced with each winner receiving $2,000.
This is just one of the many activities that occur around the Commonwealth of Nations and in particular the 'Big Lunch' community spirit event www.commonwealthbiglunches.com
Happy Commonwealth Day 2019. 
Warm regards
Janet Stewart
President